First published:
18/07/2023
Should you be worried about rising mortgage interest rates?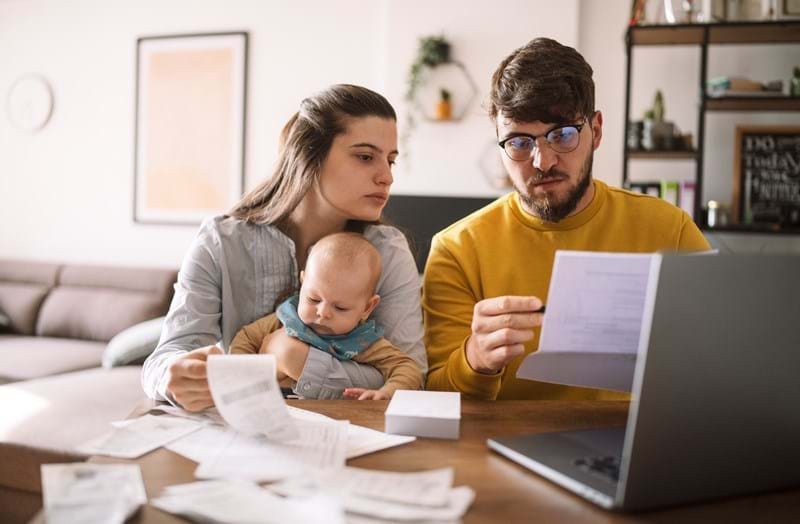 Mortgage rates have hit the highest since the 2008 financial crisis and recession, prompting many homeowners and renters to worry about what this might mean for their home security. In this article, we'll cover the details of why housing security is so important to mental health, what rates are rising, who it may impact, what to do if you're feeling worried, and what support is available. 
Why is a secure home so important for mental health?
Having a secure home is fundamental to our well-being and mental health. Housing problems can be both the cause of mental ill health and mental ill health can give rise to housing difficulties.   
According to Shelter, one in five of us has experienced mental health issues because of housing problems. Additionally, people living with mental health conditions are four times as likely to say that their housing problems are negatively impacting their mental health.  
There are many different factors that contribute to housing instability such as limited affordable housing, property prices, unemployment rates, and high cost of living. Since 2022, the ongoing cost-of-living crisis and ever-increasing inflation rates have caused many to be concerned. Financial stress in itself can contribute to poor mental health but when coupled with the threat of not sustaining or losing your home, it can take its toll on your mental and physical health. People may become anxious, stressed, depressed, have trouble sleeping, etc.  
There are steps you can take to manage your worry and anxiety about the current financial climate, such as: 
Understand the facts: it is very easy to become concerned by what you see and hear in the news and on social media.

The financial market is complex and economists make predictions based on analysing market fluctuations. It is important to understand that the picture may not be quite as anticipated. Also, e

veryone's financial circumstances are different, and it is important to know how you may be affected so you can prepare and have a plan of action.

 

Talk to specialists:

find out from specialists what options may be available to you. Mortgage advisors and Housing specialists can provide advice on the implications of those options so that you know the pros and cons for each.

Talk to someone you trust:

sharing your concerns

with those you trust will help you to feel less isolated and they may have potential solutions or suggestions. 

 

Reach out for mental health support:

you are not alone in how you feel

.

 Research carried out by the British Association for Counselling and Psychotherapy revealed that two-thirds (66%) of therapists say cost of living concerns are causing a decline in people's mental health.

So,

if you are experiencing poor mental health

,

visit your GP to discuss what options may help support you at this time.

Be proactive:

taking action about your finances now will help you plan better for the future. Use these tools to

plan your budget

and understand how you can

manage your debt

. 

 

Explore how you feel: stress can make us feel like we are powerless and cannot do anything. Use the simple stress bucket tool to think about ways you can release stress.

 
What is rising?
The Bank of England has announced that interest rates will stay higher for longer in order to tackle soaring price rises. Rates will rise from 5% to 5.25% in an attempt to curb the rising cost of living. The Bank indicated interest rates would remain higher until UK inflation (the rate prices rise) was under control.
The UK's inflation rate remains higher than the Bank's official 2% target and wage rises are not increasing enough to keep up with rising prices elsewhere and are lagging behind inflation. However, wage rises are not increasing enough to keep up with rising prices elsewhere and are lagging behind inflation.  
With strong wage growth comes the concern that companies will be facing increased costs which could force them to push up processes for their goods to offset the increase. This expectation has led to an increase in the cost of funding mortgages and lenders have been increasing the rates charged to customers.  
Who is impacted by rising mortgage rates?
Current homeowners
Rising mortgage rates directly affect those who are entering the housing market and those already with a mortgage. They may now face difficulties securing a mortgage with rates they can afford or making repayments on their current mortgage. 
Depending on the type of mortgage you may be facing different challenges both in the short and long term.  
Tracker: the payment rates rise and fall aligned with Bank of England's benchmark interest rates. 

 

Standard Variable Rate (SVR): the lender changes the rates, which can be influenced by the Bank of England's interest rates. 

 

Fixed-rate: payment rates are set for a fixed period, typically 2-5 years, after which they have to remortgage or they automatically move to an SVR. 

 
Those on tracker or standard variable rates (an estimated 1.6 million people) are paying more than they did last year and are at the mercy of a changeable market. whilst those on fixed-rate mortgages (an estimated 2.5 million people) have deals that are coming to an end next year and face a marked increase in monthly payments in the future.  
For example, the average two-year fixed residential mortgage rate has risen to 6.66% as of Tuesday, July 11th 2023, the highest it has been since the 2008 financial crisis. Mortgage costs have been climbing due to lenders' response to rising inflation and market uncertainty over Bank of England interest rates.  
The Bank of England has warned that over 2 million households will pay between £200 and £499 more a month on new mortgage deals over the next 2 and a half years.
If you are a homeowner
Contact your lender:  
If you are concerned that you might not be able to afford your mortgage payment, contact your lender as soon as possible to discuss the options available to you. You shouldn't wait until you miss a payment as this has other implications and could negatively affect the options available to you.  
Once your lender clarifies what options are available to you it is important to carefully consider the implications, as some will have both short and long-term implications. Some of the options you might be eligible for are outlined below: 
Mortgage payment holiday: 
An option that might be suggested when you talk to your lender is a mortgage payment holiday which is a fixed period of time that your lender agrees for you to delay your payments. Depending on your mortgage lender there will be various criteria you have to meet in order to be eligible for a payment holiday.  You may have to pay more each month once your payment holiday ends.  
To find out more about payment holidays visit: A guide to mortgage payment holidays | MoneyHelper 
Mortgage term extension: 
This option spreads the cost of your repayments over a longer timeframe so whilst it might reduce your monthly payments, it extends the number of years you have to repay, which also increases the interest accrued on what you have borrowed, so in the long term, you'll end up paying more. There are other implications for extending the life of your mortgage because it may take you beyond your retirement age, by which time your income source will be your pension.  
Interest-only mortgages:   
Depending on the terms of your mortgage agreement you might be offered either a temporary or permanent switch to an interest-only mortgage. You will need to have credible evidence that you can pay off the total amount at the end of the mortgage for a permanent move to interest only. A temporary switch would reduce the amount you pay monthly for that period of time but when you revert back, you will ultimately be paying more every month than you were originally because you will have less time to pay back the amount you originally borrowed. 
For further information about the options available to you, visit the Financial Conduct Authority.
If you are concerned that your lender may not be treating you fairly you can contact the Financial Conduct Authority, which regulates mortgage companies.  
Support for Mortgage Interest
If you own your home and you're worried about being unable to pay for your mortgage due to a mental health condition, you may be eligible for Support for Mortgage Interest. 
Support for Mortgage Interest is a loan paid via the Department for Work and Pensions (DWP). It can be useful if your mental health makes it difficult to work. 
You might be able to apply for Support for Mortgage Interest if you meet the following criteria: 
You own your own home or,

 

You are in a shared ownership scheme – this means you pay for a share of the house you live in (e.g., you might pay 75% towards the mortgage and 25% as rent)

 
You are already receiving one of the following qualifying benefits: 
Pension Credit.

 

Universal Credit.

 

Employment and Support Allowance (ESA) – Income-related.

 

Income Support – you can no longer make new claims on this.

 

New Style Jobseeker's Allowance (JSA).

 
You can read more about Support for Mortgage Interest here. 
If you are thinking about becoming a homeowner
Higher interest rates can deter those thinking of purchasing a home which has meant that house prices are now falling. There are numerous options with mortgages depending on your financial circumstances. It is important to understand the different terms and implications for the mortgage you select both now and in the future, given the hike in interest rates and the ongoing cost-of-living crisis.  
You might be worried whether you would be able to meet all the costs related to owning a home so it is important that you take time to research what you might be able to afford. Mortgage providers will conduct an affordability check which will look at your household income (ie wage) and your outgoing commitments (i.e., utility bills, subscriptions, etc.) You can access MoneyHelper's affordability calculator here.
You can find more information on applying for a mortgage at MoneyHelper.
If you rent your home
Landlords will be facing increased costs which inevitably places pressure on their finances. Landlords might offset the costs by passing them onto those who rent and increasing the rental payments.   
Support available for renters
Know your rights:
If you're worried that your rent might increase as a result of rising mortgage rates, it's important to know that your landlord can't simply increase your rent whenever they want. Your landlord must follow certain rules depending on your type of tenancy. These are usually outlined in your tenancy agreement. 
 
For example, if you have an "assured hold tenancy," your rent can be increased regularly, such as on a yearly basis based on market rates. You can use Shelter's tenancy rights checker to find out what type of tenancy you have.

Talk to your landlord:
If your landlord increases your rent and you're worried about being able to pay your rent, it's important to be open with your landlord and explain the situation. You may be able to negotiate the increase or, if needed, work out a way to pay the rent later. Ask if you can pay slightly less than the increase, such as meeting the landlord halfway.
Contact Citizen's Advice, Shelter, or Housing Advice NI in Northern Ireland:
If you need extra help and you don't feel confident talking to your landlord, you can contact Citizen's Advice, Shelter, or if you're in Northern Ireland you can contact Housing Advice NI for assistance. These organisations can help advise ways to meet your rent payments, such as boosting your income through benefits.

Seek debt advice:
If your rent or mortgage is already in arrears, it's important to contact a debt adviser as soon as possible. Mental Health and Money Advice has a guide for dealing with debt, including information on breathing spaces, debt management plans, and debt relief.
If you're being threatened with eviction:
If you're being threatened with eviction because your rent is in arrears, help and advice are available via Shelter. If you're in England, you can read about your rights here. You can read about your rights in Wales here. You can read about your rights in Scotland here. You can read about your rights in Northern Ireland here.  
Housing Benefit and Universal Credit
Housing Benefit is a benefit designed to help people with a low income to be able to pay their rent. However, it is gradually being replaced by Universal Credit. This is a means-tested benefit calculated by a number of factors, including rent and housing costs. Since Housing Benefit is being replaced, most people will need to apply for Universal Credit instead. You can read our Universal Credit Mental Health guide here. 
Discretionary Housing Payment
If you are in receipt of either Housing Benefit or the housing element of Universal Credit, you might be eligible for a discretionary housing payment. To find out more about this visit this link. 
If you are at risk of becoming homeless or currently homeless:
If you are faced with the possibility of becoming homeless or are currently homeless you should contact your local council's housing department to see how they can support you. If you live in England or Wales and have a mental illness, you may be considered in priority need for housing. This means that your local council must provide you with emergency accommodation. For more information on priority needs, visit Shelter's website in England or Wales.
To find your local council's contact details visit Gov.uk.
List of homelessness services across the UK.
Shelter is a national charity providing advice, information and support to anyone struggling with a housing issue or facing homelessness.  
England Helpline: 0808 800 4444 (Monday to Friday, 8 a.m. - 8 p.m. Weekends and bank holidays, 9 a.m. - 5 p.m.) 
Scotland Helpline: 0808 800 4444 (Monday to Friday, 9 a.m. to 5 p.m. Closed bank holidays.) 
Wales Helpline: 8000 495 495 (Monday to Friday, 9 a.m. – 4 p.m.) 
Northern Ireland Housing Rights: 028 9024 5640 (Monday to Friday, 9:30 a.m. to 4:30 p.m. Closed public holidays.)
Further information and support
On our website, we have a range of toolkits and tips to help you understand and manage your finances.
Other Top Tips & Advice
You may find this other advice useful.