Final Demand
Final Demand is a guide highlighting that mental health and money problems often go hand-in-hand and encourages health and social care professionals to ask the people they're supporting about their financial circumstances, helping them to access free debt advice before they reach crisis point. 
The guide has been produced in collaboration with people who have direct experience of mental health problems and is based on a programme of research and intervention led by Dr Chris Fitch, the Royal College of Psychiatrists, and the charity Mental Health UK. 
This booklet provides basic advice for health and social care workers, describing how they can practically help people with debt and mental health problems. There is no expectation that they need to become debt experts, but describes the big differences they can make by knowing and doing small things.
Within this guide you will find the following: 
Establish your role: how to provide good C.A.R.E in your daily practice
Look for signs: debt signs to look out for to help prevent a crisis
Talk about debt: how to get talking about debt and what to listen out for
Know the options: what to do if the person you support has a debt problem
Resources: signpost to support and advice 
Find a money adviser: how to find an independent debt expert
Work with advisers: supporting the debt adviser for a joined up approach
Provide information: supplying information about your client's mental health
Know the next steps: what are the options for your client
Further information: other debt toolkits and resources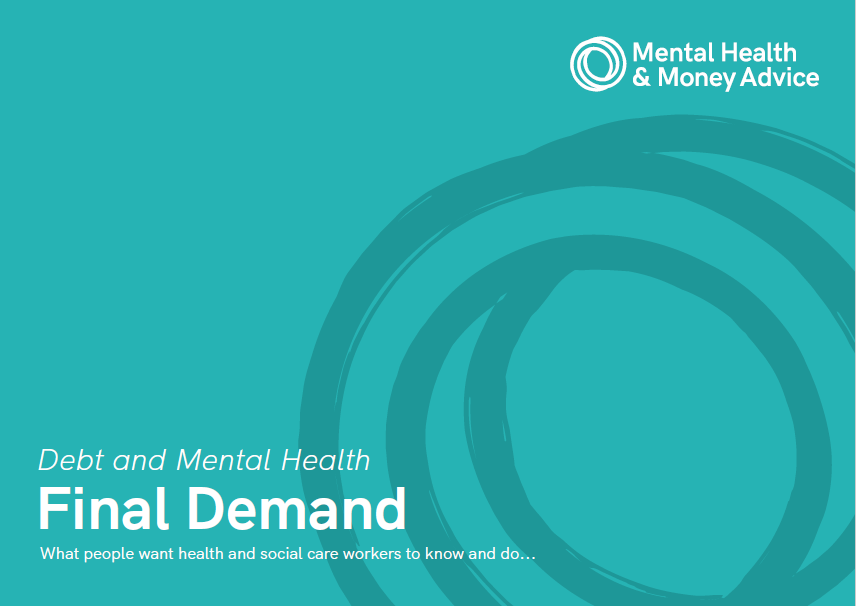 Dr Sian Williams a General Practitioner explains why conversations around the client's financial situation forms the basis of his daily practice: 
"Why get involved? I'm not a trained money adviser" used to be my reaction to the debt issue. With only ten minutes for each patient, I felt my time was better spent on medical matters, rather than asking about money worries and risk opening up a can of worms.

However, asking people about their financial situation has now become a part of my routine practice. This is because it has allowed me to identify and tackle the root causes of some patients' poor health.

Dr Sian Williams - General Practitioner
The guide has been produced in partnership with: