First published:
13/11/2023
How to save money at Christmas 2023 and New Year's 2024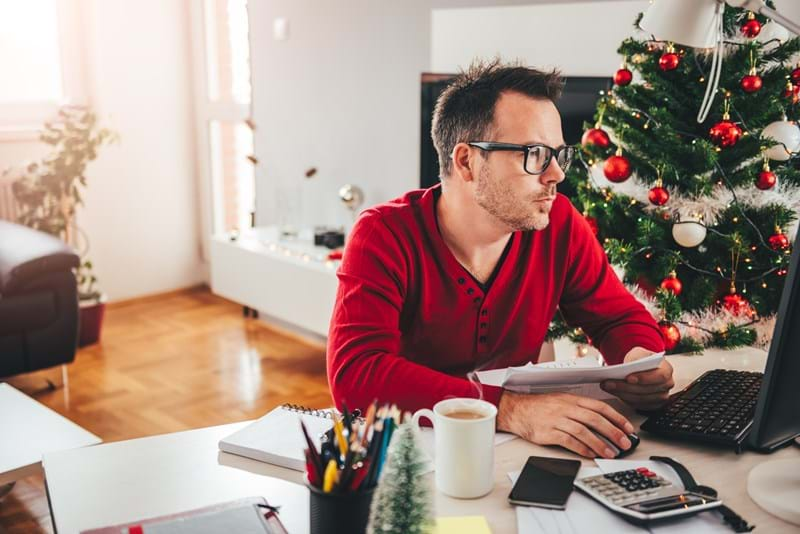 The holiday season, including Christmas, New Year's, Hanukkah, and Kwanzaa, is typically a time of gift-giving, dinners, parties, and celebration, but all of this can bring added financial stress, particularly during the continuing cost-of-living crisis. Recent research reported by the Guardian has found that the cost-of-living crisis has even changed the way we plan to celebrate this year, including parties at home and alternatives to the traditional Christmas dinner. 
This time of year, can have benefits for our mental health, but it's important that we approach the season in the right frame of mind and consider our finances. If we approach the holiday season with the right plan, it's a great way to set us up for the new year and beyond. 
For the 2023 holiday season and beyond, we've compiled a new list of tips and advice for saving money that builds on our page from last year. 
1. Avoid Christmas savings clubs
Christmas savings clubs may seem like a great idea, but they aren't without risks. Christmas savings schemes aren't regulated in the way that banks and building societies are, they likely won't offer interest on your savings, and if the scheme goes out of business, you could be at risk of losing the money you put into the scheme. You may also get your money back in vouchers, which offer limited places to spend your savings. 
Instead of Christmas savings clubs, you can save your money in a savings account at your bank, or with a credit union. Both these offer higher interest on your money and could net you a little extra. 
2. Keep an eye out for discounts and freebies
Once you've set a budget, keep an eye out for deals and freebies that might help you stretch your money further. For example, websites offering free photo prints can make for a great personal gift for your loved ones. We recommend you keep an eye on MoneySavingExpert's deals page for ideas. 
3. Organise a Secret Santa for large groups
It can be difficult to shop for large groups of people if you're on a limited budget, but suggesting a "Secret Santa" can be a great solution. Everybody agrees on a budget, adds their name to a hat, and then pulls one name at random. Then, you keep whose name you pulled a secret. Secret Santa takes the practice of setting a fixed budget and adds a little fun mystery to the festivities. And, this way, nobody feels the pressure to overspend, and everybody gets a gift of approximately equal monetary value. 
4. Sell unwanted items
Take a look around your house for things you aren't using. Old electronics such as phones and tablet computers often hold unexpected value, even if it's a fraction of the price when you originally bought it. Selling unwanted possessions you weren't otherwise using can be a great way to bolster your budget. It's worth repeating this regularly, too, after Christmas has passed. 
5. Join a supportive community to discuss financial stress
This time of year can be particularly stressful for many reasons. If you're struggling, you can join a community of understanding people such as Clic, Mental Health UK's supportive and moderated space where you can talk with like-minded people in similar situations. Just talking through your worries, whether financial or otherwise, with someone who understands can really help lighten the load.
Ultimately, though, we understand the pressure to please loved ones and give children the "perfect" Christmas, which can lead to overspending and debt. That's why we recommend some general tips that apply not just to this time of year, but to the whole year. 
It might be helpful to know that the average household Christmas budget is around £350, including food, decorations, presents, travel, and so on. Knowing this, you can use our

budget planner

to work out how much you need to save for bills and food, then account for saving for occasions such as birthdays and Christmas. This way, you can enter the holiday season with your budget already set.

 

It might feel uncomfortable but try to talk openly to loved ones about any financial worries you might have. Our recently shared

conversation guides

to talking to young people and loved ones about financial worries might help you navigate the conversation. At the very least, use these conversations to set a mutual budget you feel comfortable with following.

 

Debt can happen to anyone

, but it can be avoided. Don't take out unnecessary loans, even if you're intending to use the money for Christmas presents. If you're already in debt, you can read our

guide to dealing with debt

.

 
We hope our tips for saving money at Christmas and New Year's help you to manage your finances at this time of year. No matter what your plans are, from all of us here at Mental Health and Money Advice, we wish you a happy, healthy, and restorative holiday season. 
Other Top Tips & Advice
You may find this other advice useful.