First published:
21/12/2019
Tips for managing your money and mental health in 2021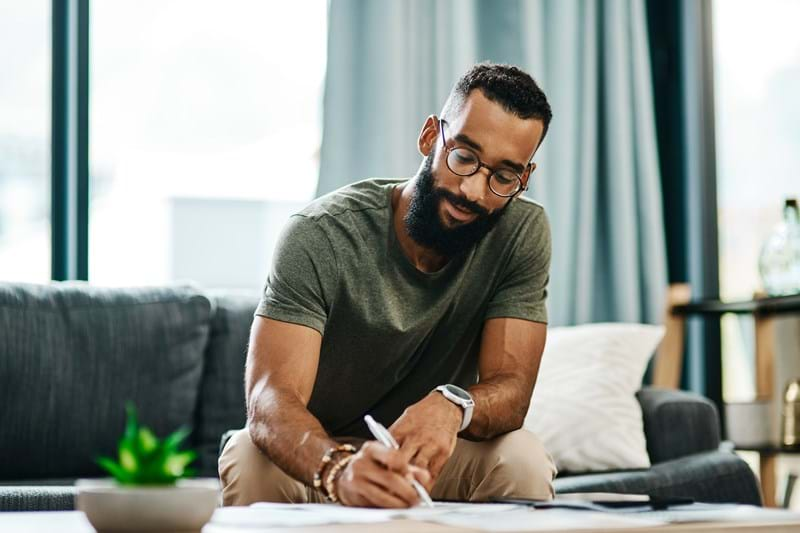 There is a link between financial difficulty and poor mental health. Whether you have money problems and it's affecting your mental health, or your mental health is affecting the way you manage your money, we are here to help.
Making a plan to manage your money better at the start of the New Year can also help you manage your mental health while helping you save money and pay your bills. These savings can then help you pay off any debt you may have.
The Mental Health and Money Advice Service outline top tips for managing your money and mental health in 2021.
Free Mental Health and Money toolkit
The Mental Health and Money Toolkit is a resource to help you understand, manage and improve your mental and financial health. Download this free guide, which you can work through alone or with a relevant healthcare worker to:
Understand the relationship between money and mental health.
Learn self-help techniques for managing your anxiety and mental health around your money worries.
Take control of your finances.
Set up a budget
Setting up a budget is the first step you should take towards managing your money. It will require effort on your part, but you will be able to understand precisely where you are spending, and how to make changes for the year ahead.
To start your budget for 2021, read our budget guidelines and set up a budget sheet, or use our free budget planner.
There are several budgeting apps available for your phone, while most banks/building societies now have an online budgeting tool.
Remember to account for seasonal or occasional expenses such as Christmas, birthdays and holidays. Make sure you can factor this into your yearly budget.
Review your budget regularly
Now you have made your money budget for the year you should review this monthly to help guide your spending.
Shopping bills, household bills and living costs can vary monthly, reviewing your budget will allow you to see where you can save money, and means your budget is a true reflection of your current situation.
Try and save money every month for emergencies
At the end of each month, you should try and save money as this will help you budget for any emergencies. Always save any money you have left at the end of the month, even if it's a small amount, it will help and soon adds up.
The Jam-jar method
The Jam-jar method of saving - dividing your money into separate pots for different expenses - is a great way to ensure you stick to your budget and have enough money to pay your bills.
You can use physical jam jars to separate your money or use a bank that offers jam jar accounts, where you can switch cash to different pots or accounts.
Pay yourself a weekly cash allowance
As part of your budget, you could pay yourself a weekly allowance in cash every Monday. Once all of your bills, travel etc. have been accounted for, a weekly allowance is what you can afford to spend that week.
Using cash instead of a card will help control your spending and make sure you are sticking to your budget.
Keep track of your contracts
The New Year is a good time to cancel any memberships you are no longer using, and review your utility supplier so that you can reduce your outgoings.
Make a note of when your contract is up so you can remember to check for a better deal before your lease ends. Letting a contract lapse will usually mean you are not on the best deal, meaning there is money to be saved.
Have a 'cooling-off' period
When you buy something you should always keep the receipts - if you have bought clothes, keep the tags attached - and give yourself a 'cooling-off' period to review your purchase, and ask yourself the following questions:
Can I afford this?
Have I stuck to my budget?
Do I need this?
This 'cooling-off' period can give you the space you require to answer these questions once the impulse to buy something has gone.
Under the Consumer Contracts Regulations, you have the right to return any purchase up to 14 days from the day you received your goods.
Prioritise your debt
Did you know you should pay certain debts ahead of others? A priority debt means you will lose something if you don't pay towards it.
They don't have to be the most expensive or have the highest interest rates, but you should pay the following debts before non-priority debts:
Council Tax
TV Licence
Child maintenance
Gas and electricity bills
Income Tax, National Insurance and VAT
Mortgage or rent
Hire purchase agreements
Any loans secured against your home.
The list below highlights what is not a priority to pay if you can't afford it:
Credit cards
Loans
Water bill - by law you can't be cut off from your water supply.
Understand your mental health and money situation
Your mental health can affect your ability to manage your money in several ways. Understanding these patterns can help you find solutions that work for you and make you feel more in control of the situation.
One method is to record a money and mood diary when you make a purchase. It would help if you recorded what you spend, why and how you feel allowing you to:
Understand when and why you spend money
Recognise what money situation makes your mental health worse? Is it debt, opening bills, bailiffs, confrontation etc.
You can also read our guides on how money worries can affect your mental health, and how your mental health condition can affect how you manage your money.
Get help if you're worried about your mental health and money
Worrying about money can affect your mental health while living with a mental health condition can severely impact your ability to manage money.
If you're concerned about your money and mental health situation, you should contact Rethink Mental Illness who offer mental health support, or one of the many debt charities for further money advice.
Other Top Tips & Advice
You may find this other advice useful.