First published:
16/05/2023
What is financial anxiety?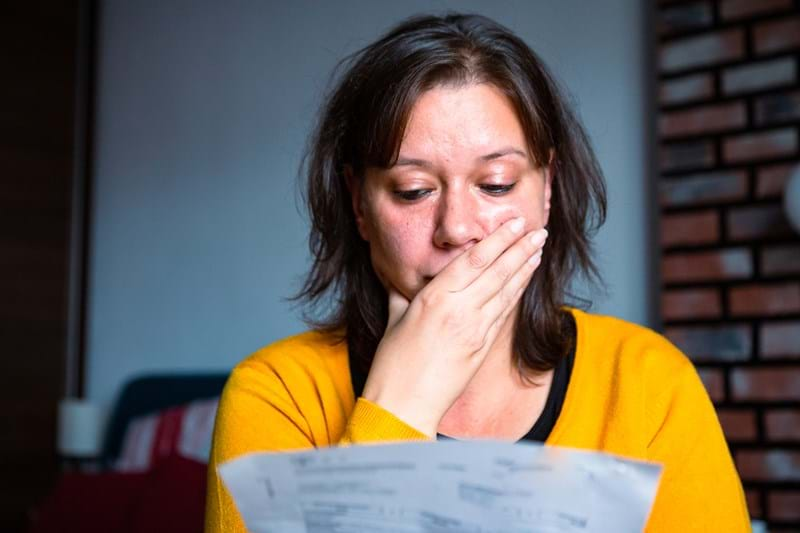 Financial anxiety, or money anxiety, is a feeling of worry about your money situation. This can include your income, your job security, your debts, and your ability to afford necessities and non-essentials. 
The cost-of-living crisis may make financial anxiety more common due to the increased financial pressures people are facing. The National Office of Statistics discovered that 77% of British adults have reported feeling stressed as a result of the cost-of-living crisis. Meanwhile, a November 2022 poll by the Mental Health Foundation found one in ten (10%) of UK adults felt hopeless about their financial circumstances, more than one-third (34%) felt anxious, and almost three in ten (29%) felt stressed about their finances. 
What are the signs of financial anxiety?
While stress and anxiety are common experiences, they can be life-limiting and can affect almost every part of our lives such as our home life, work life, and relationships. While anxiety is often a passing experience, anxiety that does not go away can have a negative impact on your well-being and mental health. Research has shown that financial worries can be linked to mental health conditions such as depression or anxiety disorders so it is important to access the support available to address both.  
You can find out more about anxiety disorders and depression on the Mental Health UK website.  
Financial anxiety is not a diagnosable anxiety disorder, however, it can be a contributing factor. The signs that you might be experiencing financial anxiety include: 
Rumination about your financial situation regardless of your ability to cover bills. This may interrupt your sleep, or distract you from other aspects of your life.

Fear that your financial situation could change for the worse.

Feeling sick or frozen at the thought of checking your bank account.

A feeling of dread when you receive a bill and avoiding opening or reading it.

Avoidance of checking your bank account or checking your bank account repeatedly.

Taking comfort from hoarding, overspending or being extremely frugal.

 
You might also experience one or more general symptoms of anxiety.
What are the causes of financial anxiety?
There are many potential causes of financial anxiety, though they are typically related to existing money troubles or a history of uncertainty around finances. This can include: 
Growing up in poverty, or in a household where money was often scarce.

 

Sudden job loss, or sudden unexpected payments that cause significant disruption.

Financial abuse, including having somebody control your finances or ridicule your ability to manage finances.

Low or unstable income, such as living paycheque to paycheque or "zero-hours contracts".

Economic financial

instability

, such as

inflation,

recession

and

the cost-of-living

crisis

.

Negative financial experiences such as bankruptcy, redundancy, divorce (which can have a significant financial impact), failed business, etc.

Increased financial responsibility such as paying for care, becoming a single parent, retiring etc. 

 
What do people with financial anxiety worry about?
In 2022, the Mental Health Foundation found that UK adults are most concerned about not being able to maintain their standard of living (71%), heat their home (66%) or pay general monthly household bills (61%). More crucially, half (50%) of UK adults were at least a little worried about being able to afford food over the next few months, rising to 67% of younger adults aged 18 to 34.
How can financial anxiety affect your life?
In addition to the ways anxiety can affect your quality of life, financial anxiety can have the following impact:  
Inability or disrupted sleep (insomnia) due to worrying about money.

Avoidance behaviours, such as ignoring bills or your bank balance, which could potentially lead to penalties or additional charges.

Getting into debt and legal issues possibly involving

debt collectors

.

Family conflict, such as arguments over money and spending habits that affect the wider household.

Problem gambling or gambling addiction

behaviours.

Substance abuse as a means of distraction from money worries.

Hoarding behaviours, such as saving unnecessary items like boxes or bags despite not needing them.

Withdrawing socially which could be out of concern for the cost of socialising or because you may feel a sense of shame or embarrassment over your circumstances.

Appetite disturbances which you could relate to the cutting expenditure on food as well as lack of appetite or overeating in response to anxiety.

 
Self-care for financial anxiety
In addition to seeking help from mental health and debt professionals, it's important to utilise self-care techniques to help cope with financial anxiety . Here are some suggestions for managing anxious thoughts

 

Causes and triggers:

Understanding what is behind your financial anxiety may help you identify potential triggers or causes that you can proactively address. For example, are you worried about loss of control, security, instability, etc. 

 

Breathing exercises

:

can help you to relax when feeling anxious. Try the "box breathing" technique:

Breathe in through your nose for four seconds, focused on the air entering your lungs.

Hold that breath for four seconds.

Exhale through your mouth for four seconds.

Pause for four seconds, and then repeat. Focus only on your breath; if your thoughts start to drift, bring them gently back to your breath and continue until you feel calmer.

Talk to

someone you

trust

:

about how you feel. You don't necessarily have to disclose financial details but just sharing your concerns with someone else can help you feel less alone and supported. The person you talk to may have suggestions, but the act of unbottling your feelings may help you to gain either a different perspective or feel less burdened.

Seeking help from professionals:

If your financial anxiety is affecting your quality of life, seek support from a mental health and/or a debt professional.

 
Managing your money
Addressing money matters and taking control of your finances or debt will hopefully ease some of the concerns you are facing and help you to cope with the challenges you face. Here are some suggestions on how to take control, plan ahead, and reach out for support.  
Budget planning:

can help reduce financial anxiety by creating certainty and confidence about money. MoneyHelper's

budget planner

is an excellent tool for helping you manage your finances and take control. You can also read our

tips for managing mental health and money in 2023

.

 

Managing spending:

can be very challenging, so read our

top tips

on how to identify triggers that make you prone to overspending, how to manage day to day spending and a tool you can use to limit your online spending.

Managing debt:

debt can cause a lot of stress and worry but there are options for dealing with debt ranging from

negotiating reduced payments

, applying for a

mental health breathing space

to establishing a

debt management plan

and drawing up

individual voluntary arrangements

.

Welfare benefits:

if you are living with a mental health condition you may be entitled to financial support. You can find out more information about a

wide range of benefits

on our website.

Increased financial literacy:

understanding money matters may help reduce your concerns as some of your financial worries might be inaccurate or unfounded. Knowledge will help empower you to make informed decisions about your finances and increase your feeling of control and self-worth.  

 
How to seek help for financial anxiety
If your financial anxiety is impacting your daily life, there is help out there, both for your mental health and money matters. You can contact your GP or the NHS to access support for your mental health and well-being.
For Mental Health and Money Advice, our website contains helpful tools and guidance advice on everything from coping with debt to applying for benefits. 
You can also call the following financial helplines for free, confidential advice: 
Other Top Tips & Advice
You may find this other advice useful.